Clallam Bay Corrections Center (CBCC)

Facility Alerts & Notices
Before visiting, check for notices that may impact your travel plans. For visitation cancellations, you can follow

@WADOCVisits on Twitter.
Effective Friday, March 20, 2020: Washington State Department of Corrections (DOC) is temporarily suspending all volunteer access and associated services at all prison facilities. This action is taken to enhance the practice of social distancing and further mitigate the risk of exposure to our employees and incarcerated population. For further details, please see the Temporary Suspension of Volunteer Services memo

(pdf)

.
Effective Friday, March 13, 2020: Consistent with DOH guidelines, Corrections is working to implement enhanced screening protocols for all employees/contract staff, incarcerated individuals and others entering our facilities and field offices to include taking temperatures and answering screening questionnaires. Until we are able to put those protocols into place, we are taking the following actions effective March 13:

Suspending visitation at all correctional facilities in Washington including extended family visits (EFV). Corrections has authorized reimbursement for families scheduled for EFVs
Restricting access for all individuals, with the exception of employees/contract staff and legal professionals, to Monroe Correctional Complex, Washington Corrections Center, and Washington Corrections Center for Women
Suspending all tours and events involving four or more outside guests at all facilities

Saturday, June 20, 2020: Vistation will be closed from 11:00 a.m. - 5:15 p.m. for the Dudes Day event.
Contact & Location
At A Glance
Local Family Council
DOC Policy 530.155 Family Councils


Custody Level: Medium
Close, & Maximum
Living Units & Custody Levels
Capacity: 858 male inmates
Year Opened: 1985

CBCC Visiting Information
Visitor Application Process
To visit an inmate, you must complete the visitor application process. Go to the Prison Visits webpage for information about what is required in your specific circumstances to complete the visitor application process.
The visitor application process must be completed for both Prison Visits and Video Visits.
Visitor Guidelines
The general guidelines that are applicable to all prison facilities is detailed in DOC Policy 450.300 Visits for Incarcerated Individuals

. CBCC also has its own Visitor's Guidelines

detailing important notices, visiting rules, guidelines for all visits (prison and video), and regular visiting hours for each housing unit.
CBCC's Regular Visiting Hours have also been published below as a quick reference for your convenience.
Family Friendly Events
Many family friendly events are hosted at CBCC. These events may disrupt regularly scheduled visiting hours. Please refer to the CBCC Family Friendly Events Calendar

for information regarding upcoming scheduled events.
Regular Visiting Hours
Below are the regularly scheduled visiting hours for each unit that accepts visitors at CBCC. Regular visiting hours are subject to change due to unplanned incidents, as well as scheduled events. Please check facility alerts & notices, as well as the Family Friendly Events Calendar

and Visitor's Guidelines

for information that may impact your travel plans.
CBCC Visit Room
No Entrance times are from 1 p.m. to 2:15 p.m. and from 4 p.m. to 5:15 p.m. and after 6:30 p.m.
All D-unit visits will be NO-CONTACT visits, EXCEPT the Intensive Transition Program inmates. The time of visits has changed to 11 a.m. - 1:00 p.m. and 2:15 - 4:00 p.m. Friday – Monday.
No Contact Booth: One visit per week for inmates in segregation or the Intensive Management Unit (IMU) during Regular Visiting Hours. Length of visit depends on the inmate's IMU level.
Family Crafts are available in the visit room during Regular Visiting Hours.
| | |
| --- | --- |
| Sunday: | 11:00 a.m. – 7:15 p.m. |
| Monday: | 11:00 a.m. – 7:15 p.m. |
| Tuesday: | None |
| Wednesday: | None |
| Thursday: | None |
| Friday: | 11:00 a.m. – 7:15 p.m. |
| Saturday: | 11:00 a.m. – 7:15 p.m. |
Facility Programs
Academic & Partnership Programs
Adult Basic Education
Building and Maintenance Technology
Cloud and Computer Development Design
Dog Training & Adoption Program
General Education Development (GED)
Professional Baking and Pastry
Small Business Entrepreneurship
Small Business Accounting
Research Based Programs
Intensive Transition Program (ITP)
Work & Vocational Programs
Correctional Industries (CI) employs offenders in their garment factory and laundry
Food Service
Clerks
Electricians
Groundkeepers
Mechanics
Recreational assistants
Warehouse workers
Welders
Community Involvement
Clallam Bay works closely with the surrounding communities to maintain communication lines about the status of the facility, hiring, and rendering assistance, if needed.
Volunteer Programs
Many volunteers in the community are active in developing programs at the facility. Volunteers participate in religious bible study, worship services, one–to–one prison mission and other cultural, ethnic and recreational opportunities.
Art in Public Places
The Art in Public Places (AIPP) program facilitates the acquisition, placement, and stewardship of artwork in state-funded building projects throughout Washington. The Washington State Legislature established the AIPP program in 1974 to acquire artwork for educational institutions and state agencies, funded by ½ of 1 percent of the state's portion of construction costs. Today, the State Art Collection includes more than 4,700 artworks.
The Vision, 1996 | Father and Son, 1980 | Acoma Deer, Morningstar Eagle, Where the Grizzly Walks, 1984
Clallam Bay Superintendent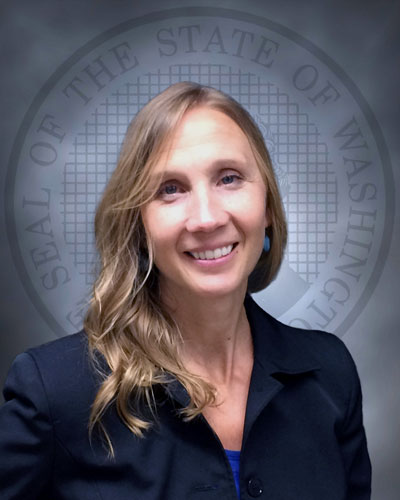 Superintendent
Jeri Boe