Washington State Penitentiary (WSP)

Facility Alerts & Notices
Before visiting, check for notices that may impact your travel plans. For visitation cancellations, you can follow

@WADOCVisits on Twitter.
Tuesday & Wednesday, November 1 & 2, 2022: The West Complex visiting room will be closed for floor maintenance.
Effective Friday, September 9, 2022: Visitation is suspended for Victor and William Units until further notice.
Wednesday, May 25, 2022: Visiting is limited for individuals in Echo East and IMU North F Mod as they are being used for COVID-19 isolation and quarantine purposes.
View the current COVID-19 prison visit guidelines and prison facility visitation statuses. Prison facility visitation statuses are based upon community COVID-19 levels which can change at any time.
WSP Visiting Information
Visitor Application Process
To visit an inmate, you must complete the visitor application process. Go to the Prison Visits webpage for information about what is required in your specific circumstances to complete the visitor application process.
The visitor application process must be completed for both Prison Visits and Video Visits.
Visitor Guidelines
The general guidelines that are applicable to all prison facilities is detailed in DOC Policy 450.300 Visits for Incarcerated Individuals (pdf). WSP also has its own Visitor's Guidelines (pdf) detailing important notices, visiting rules, guidelines for all visits (prison and video), and regular visiting hours for each housing unit.
WSP's Regular Visiting Hours have also been published below as a quick reference for your convenience.
Family Friendly Events
Many family friendly events are hosted at WSP. These events may disrupt regularly scheduled visiting hours. Please refer to the WSP Family Friendly Events Calendar for information regarding upcoming scheduled events.
Special Visits
Those approved for special visits can also use regular visitation hours. The facility has designated four tables for special visits. The request for a special visit used during regular visitation hours are limited to one day per request, every 30 days. Any questions should be addressed to the Visiting Sergeant. All requests approved before August 1, 2019 will be honored.
Regular Visiting Hours
For regular visit opportunities, view the COVID-19 Prison Visit Appointment Request form to obtain the facility and unit-specific available dates and times.
West Complex: Delta, Echo, Fox & Golf Units
Days
Time
Daily
7:00 a.m. – 7:30 a.m.
7:30 a.m. – 8:00 a.m.
11:00 a.m. – 11:30 a.m.
11:30 a.m. – 12:00 p.m.
5:00 p.m. – 5:30 p.m.
5:30 p.m. – 6:00 p.m.
West Complex: Victor & William Units
Days
Time
Daily
8:30 a.m. – 10:30 a.m.
12:30 p.m. – 3:30 p.m.
6:30 p.m. – 8:30 p.m.
West Complex: Baker, Adams & Rainier Units (BAR Units)
Days
Time
Monday, Wednesday, Friday
9:00 a.m. – 9:30 a.m.
9:30 a.m. – 10:00 a.m.
10:00 a.m. – 10:30 a.m.
East Complex: Units 6, 8 & 10

| Days | Time |
| --- | --- |
| Monday, Friday | 8:00 a.m. – 11:00 a.m. |
| Wednesday, Saturday | 6:30 p.m. – 8:30 p.m. |
---
Professional Visits
Professional visits may be scheduled through the Legal Liaison Officer (LLO). Normal business days only. Holidays excluded.
East Complex Attorney Room for General Population

| Days | Time |
| --- | --- |
| Monday, Friday | 1:00 p.m. – 5:00 p.m. |
West Complex Attorney Room for General Population

| Days | Time |
| --- | --- |
| Monday – Friday | 11:00 a.m. – 5:30 p.m. |
West Complex Attorney Room for Intensive Management Unit (IMU) – Level 5 and Approved for Contact Visits

| Days | Time |
| --- | --- |
| Monday – Friday | 11:00 a.m. – 5:30 p.m. |
No Contact Booths in Intensive Management Unit (IMU) – Approved for No Contact Visits
Days
Time
Monday – Friday
9:00 a.m. – 11:00 a.m.
1:00 p.m. – 3:00 p.m.
Facility Programs
Academic & Partnership Programs
Auto Body
Information Technology
Building Maintenance Technology
Getting it Right
Bookkeeping
Dog Training & Adoption Programs
Diesel Mechanics
Graphic Design
Heating Ventilation and Air Conditioning (HVAC)
Welding
Research Based Programs
Work & Vocational Programs
Community Involvement
Volunteer Programs
Community volunteers provide programs and services that promote positive reintegration into the community, including religious programs, Alcoholics Anonymous (AA) and Narcotics Anonymous meetings, assisting Veterans with military issues, assisting inmate's families with children mentoring programs, and special programs (i.e., dental hygienist, photographer, etc.) that are available to the inmate population and their families.
Additionally, guest sport teams, choirs, musical groups, guest speakers/lecturers, and professional groups have held programs for the inmate population. There are also groups that assist inmates in the process of re–integrating back into society.
Giving Back to the Community
Washington State Penitentiary is active in many other programs that support the local community including involvement in Habitat for Humanity, a Canine Training Program, Teddy Bear Program, Native American Regalia Program and the STAR Project.
Inmate Families & the Community
The Family Advisory Committee at Washington State Penitentiary (WSP) was establish to advise the facility on opportunities to strengthen the inmate's family and enhance successful re-entry to community and family.
Some local motels have gift certificates available to assist families with their motel rate if they need to spend a night at Walla Walla, either before or after a regularly scheduled visit.
Art in Public Places
The Art in Public Places (AIPP) program facilitates the acquisition, placement, and stewardship of artwork in state-funded building projects throughout Washington. The Washington State Legislature established the AIPP program in 1974 to acquire artwork for educational institutions and state agencies, funded by ½ of 1 percent of the state's portion of construction costs. Today, the State Art Collection includes more than 4,700 artworks.
Washington State Penitentiary Superintendent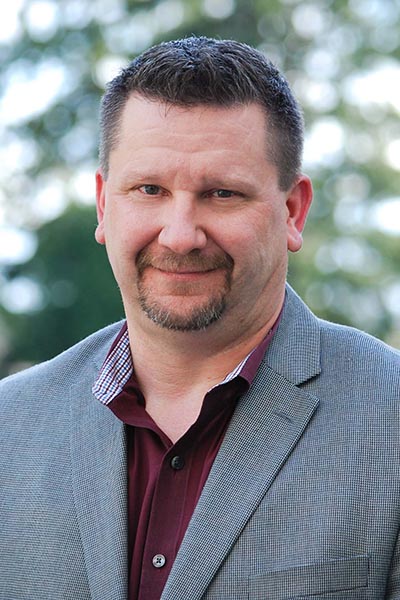 Superintendent Rob Jackson
Rob Jackson began his career with the Washington State Department of Corrections at Washington State Penitentiary (WSP) in the summer of 1991 as an intern with the Mental Health Program. In 1993, he was offered a position working in the in the Acute Inpatient Mental Health Unit and long-term Mental Health Special Housing Unit as a Correctional Mental Health Counselor (CMHC). After promoting within the Mental Health Unit to the position of CMHC3, Rob promoted to Corrections Specialist 3 (CS3) tracking Security Threat Group (STG) activity at WSP. At various times from 2003-2007, he served as Acting Unit Manager for all three close custody living units as well as Segregation at WSP. In 2007 Rob transitioned from a CS3 to an Emergency Management Specialist. He was responsible for coordinating the facility's emergency management processes and procedures under the direction of the Facility's Emergency Management Coordinator.
In April 2009, Rob transferred to the WSP Intelligence and Investigation Unit (IIU) as Chief Investigator. He later promoted to Correctional Program Manager for the East Complex in 2013, which consists of WSP's minimum custody units. In this role he also supervised WSP Property, Mailroom, Visiting, and Community Partnership Programs.
In November of 2015, Rob was promoted to Associate Superintendent and oversaw the operation of three close custody living units, two medium custody living units, Custody Roster, Training, Community Partnership Program (volunteers), Armory and functioned as the facility's Emergency Management Coordinator. Since January of 2022, Rob served as Interim Superintendent of the Washington State Penitentiary.
Rob earned an Associate of Arts Degree from Walla Walla Community College in 1991. He graduated from Washington State University with a Bachelor of Science Degree in Psychology in 1996. He is a former member of the Department's Incident Management Team and a Certified Diversity Executive through the Institute for Diversity Certification. He is also a member of the American Corrections Association and the National Association of Blacks in Corrections.